[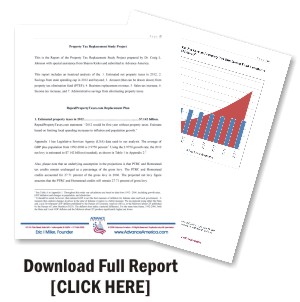 Indianapolis, IN] Eric Miller, Founder of Advance America today released the results of a professional study of their Property Tax Repeal Plan conducted by a respected professor at Indiana University, Dr. Craig L. Johnson.
Miller was joined by the following Legislators who support the Constitutional Amendment to Repeal Property Taxes: Senator Phil Boots, Senator Dennis Kruse, Senator Brent Steele, Sen. Greg Walker, Senator John Waterman, Rep. Jim Buck, Rep. Woody Burton, Rep. Eric Koch, Rep. Cindy Noe, and Rep. Jackie Walorski. Also in attendance were individuals representing numerous taxpayer groups around the state and Attorney John Price who is the Chairman of the Indiana Property Tax Repeal Alliance, Inc.
Prior to discussing the study Miller stated, "It's time for a change in Indiana government." He pointed out that Repealing Property Taxes is the only way:
To let someone finally own their own home, farm or business;
To let Hoosiers vote to Repeal Property Taxes;
To stop future property tax increases;
To save over $100 million in administrative expenses;
To stop incorrect assessments and
To not repeat history by raising existing taxes or creating new taxes in exchange for temporarily lowering property taxes.
Miller stated that the opponents of our effort to Repeal Property Taxes have used scare tactics to try to stop this effort. "The opponents have said that in order to Repeal Property Taxes the state would either have to raise the sales tax to 13% or raise the income tax to 9%. These opponents are intentionally trying to mislead the public. They didn't consider the impact of controlling state and local government spending in our proposal or the time it would take to Repeal Property Taxes with a Constitutional Amendment."
Dr. Craig L. Johnson served as the Consultant to review Advance America's Property Tax Repeal Plan. He has been at Indiana University since 1992. Dr. Johnson is an Associate Professor of Public and Environmental Affairs at SPEA-Bloomington. Dr. Johnson received his Master of Public Administration and Ph.D. degrees from The University at Albany, State University of New York. His primary research interest focuses on improving how government finances are managed
Dr. Johnson's Study shows conclusively that Advance America's Plan is fiscally sound and doable. The Study points out that if property taxes are repealed with a Constitutional Amendment, property taxes can be replaced:
By controlling government spending at the state and local level;
By setting up a Property Tax Elimination Fund to receive state money over and above the state spending control. This fund will also serve as a rainy day fund;
By enacting a 2% sales tax increase and a 1% income tax increase and business replacement revenue of $951 million only after the voters vote in 2010 to Repeal Property Taxes; (This amount for business replacement revenue is not a tax increase. It represents a reduction of over 50% in the amount businesses would be paying in property taxes in 2012 according to Dr. Johnson.)
By using over $100 million in administrative savings from Repealing Property Taxes.
The figures supporting our plan do not include any growth in state sales or income taxes from economic development that occurs from the Repeal of Property Taxes.
Additionally, the figures do not include interest on the Property Tax Elimination Fund which is estimated to be in excess of $250 million in 2012.
The entire text of the Study including a resume on Dr. Johnson is available at www.AdvanceAmerica.com.
Miller restated, "It's time for a change in Indiana government. It's time for the Senate and the House to have a fair, full and open debate along with a vote on the floor of the House and Senate so that all 100 Representatives and all 50 Senators can have the chance to vote to Repeal Property Taxes."
More information on Advance America's plan to repeal property taxes, as well as upcoming events, can be found at www.AdvanceAmerica.com or by calling 1-800-448-8683.
Advance America is a non-partisan educational organization that does not endorse any candidate or political party. Advance America was founded by Eric Miler in 1980.
Miller is an attorney and the Founder of Advance America, a conservative pro-family and pro-tax reform organization started in 1980.