WallBuilders
WallBuilders is an organization dedicated to presenting America's forgotten history and heroes, with an emphasis on the moral, religious, and constitutional foundation on which America was built-a foundation which, in recent years, has been seriously attacked and undermined. In accord with what was so accurately stated by George Washington, we believe that "the propitious [favorable] smiles of heaven can never be expected on a nation which disregards the eternal rules of order and right which heaven itself has ordained."

Christian Law Association
The Christian Law Association is a "ministry of legal helps." Its purpose is to provide free legal assistance to Bible-believing churches and Christians who are experiencing legal difficulty in practicing their religious faith because of governmental regulation, intrusion, or prohibition of one form or another.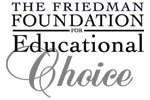 The Friedman Foundation
The Friedman Foundation for Educational Choice, a non-profit organization established in 1996, was founded upon the ideals and theories of Nobel Laureate economist Milton Friedman and economist Rose D. Friedman. The best way to improve the quality of elementary and secondary education is to give all parents the freedom to choose the schools that work best for their children. Milton Friedman first articulated and applied this idea of liberty and free markets to our education system in 1955.